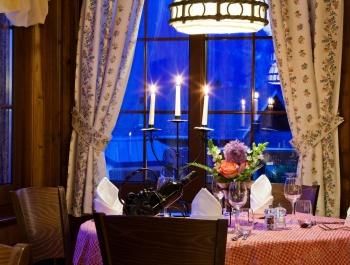 Restaurant
The chef cooks himself. He uses only quality products and the most of the region. In the restaurant, open at night, we offer according to availability:
The half-board menu, which changes every evening, 3 courses with two choices for each dish at Fr. 49.- per person. Prices for children
A Valaisan menu consisting of a Valaisan platter, cheese fondue and a dessert at Fr. 49.- per person (from 2 persons).
Childrens menu
Of course, it is also possible to eat the menus without entry or without dessert or only the main course.
Half-board booked in advance will cost Fr. 46.- per person for 1 night stay and Fr. 39.- .- per person per day from 2 nights and is only valid on our rates with reservation directly at the hotel.
In low season if there are no half-board bookings it is possible that the restaurant is closed.. In the village you will find several restaurants near the hotel one of which is 50 m from our hotel. The other restaurants can be reached on foot between 5 and 20 minutes or between 1 and 5 minutes by car. A list of restaurants is available at the reception.
For groups and seminars staying at the hotel, banquets, weddings, family celebrations, business outings, class dinner, etc. we will gladly welcome you for lunch or dinner 7 days a week throughout the season. Ask for our suggestions for group menus from 8 people. Our two rooms can accommodate up to 70 people per room.
VIEW WINE MENU
Read more
Less
Our menu on 31 December 2018
19h30
Apéritif et amuses gueules au salon au coin du feu
« Joyeuse mise en route »
Délice de la mer en ceviche façon péruvienne
accompagné des patates douces
***
Velouté de potiron légèrement parfumé au curry et sa
brochette de crevette et Saint Jacques juste snackées
***
Tournedos de filet de bœuf avec sa sauce boisée aux morilles
Visite du potager
Pommes Duchesse
***
Soufflé glacé à la mandarine et pain d'épices version cake moelleux
Coupe de Champagne à minuit
Fr. 88.- par adulte dès 16 ans
Fr. 68.- par enfant dès 12 ans
Fr. 39.- par enfant 6-11 ans (1/2 portions vélouté et brochette, plat, dessert ou glace)
Fr. 29.- par enfant - 6 ans ( velouté, 1/2 plat, glace)