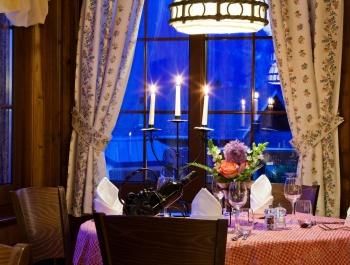 Restaurant
For dinner, we only serve a half-board menu. This 3-course menu includes an appetizer or mixed salad, a main course with 2 choices and a dessert with 2 choises. The menus change every day and are prepared exclusively with fresh products, of excellent quality, coming as far as possible from the region and for the meat and the fish raised and elaborated in the respect of the animal and the man . Of course, we adjust the menus for vegetarians, please tell us in advance. The boss himself is in the kitchen..
In low season, when there is no half-board reservation, it is possible that the kitchen remains closed. A list of restaurants in the village is available at the reception.
The price of the menu is CHF 46.- per person for 1 night and CHF 39.- from 2 nights if you book directly through our website, by email or by phone. If you book via another booking engine than ours or if you have a gift voucher with breakfast, the menu costs CHF 49.-
Prices for Children and menus for children are available.
Upon prior reservation, you can also order the Valaisan menu from 2 persons, consisting of a Valaisan plate or a mixed salad, a cheese fondue and a dessert for the price of CHF 48.- per person or CHF. 27.- for cheese fondue only.
People who do not stay at the hotel are of course also welcome in our dining room and the menu price is CHF 49.-
If you want to eat à la carte, we recommend the restaurants of the village.
For groups and seminars staying at the hotel, banquets, weddings, family celebrations, company outings, class suppers, etc. We will welcome you for lunch or dinner 7 days a week during the whole season. Ask for our group menu proposals from 8 people. Our two rooms can accommodate up to 70 people per room.
VIEW WINE MENU
Read more
Less
Our menu on 31 December 2018
19h30
Apéritif et amuses gueules au salon au coin du feu
« Joyeuse mise en route »
Délice de la mer en ceviche façon péruvienne
accompagné des patates douces
***
Velouté de potiron légèrement parfumé au curry et sa
brochette de crevette et Saint Jacques juste snackées
***
Tournedos de filet de bœuf avec sa sauce boisée aux morilles
Visite du potager
Pommes Duchesse
***
Soufflé glacé à la mandarine et pain d'épices version cake moelleux
Coupe de Champagne à minuit
Fr. 88.- par adulte dès 16 ans
Fr. 68.- par enfant dès 12 ans
Fr. 39.- par enfant 6-11 ans (1/2 portions vélouté et brochette, plat, dessert ou glace)
Fr. 29.- par enfant - 6 ans ( velouté, 1/2 plat, glace)