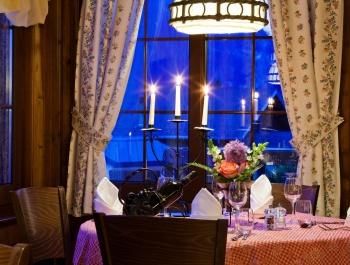 Half Board
The chef cooks himself. He uses only quality products and the most of the region. As a guest at the hotel you can choose to have an arrangment with breakfast or with half-board during your stay. Half-board a 3-course menu in the evening consisting of a starter, a dish with choices and dessert with choice will be proposed. Half board must be booked in advance and costs Fr. 45.- per person for 1 night and CHF 39.- per person from 2 nights.
If there are no half-board reservations, the restaurant may be closed. In the village you will find several restaurants close to the hotel. A list of restaurants is available at the reception.
For banquets, weddings. family celebrations, company outings, class dinner, etc. we welcome you gladly for lunch or dinner. Order the map of our menus groups from 8 persons. Our two dining rooms can accommodate 70 people each in total 140 persons.
VIEW WINE MENU
Read more
Less